Golden Trout Wilderness Pack Trains – Steve Day/Owner – Chuck Stokke/Guide
Let our wranglers take you and your family or friends on a pack trip far into the Golden Trout Wilderness. This legendary trout fishing region is among the best in the Western U.S. The river and countless backcountry lakes are teeming with Rainbow Trout, native Golden Trout and Brook Trout. We offer half-day and day rides, spot trips, full service pack trips, hunting trips and lodging. Enjoy breathtaking scenery, pristine water, excellent meals and the solitude of the western Sierra's.
Ryan and Rob Buhler
Pat Jaeger – Eastern Sierra Guide Service, Bishop, Ca
My objective as a guide is to understand the craft in such detail that I can simplify the essential fundamentals of the sport. And streamline the learning curve to give the average angler the freedom of fishing on his or her own. I can also break down the technical aspects of the sport and offer the more advanced anglers a new arrow for their quiver. I enjoy a little sweat on my brow getting off the beaten path. I strive for that look in a client's eye when I hit the bull's eye by matching the vision of the perfect fishing location or when the client learns a new method of tricking elusive trout.
Guy Jeans – Kern River Fly Fishers
http://www.kernriverflyfishing.com/
Joe Libeu Of Sierra Pacific Fishing Adventures
Topic: Tactics for Large fish on Lower Owens River.
Bio:
Joe began fly fishing in 1973 because of the love of the sport became involved in guiding, teaching, instructing and consulting within the Industry. Currently a IFFF Master Fly Casting Instructor and on the IFFF BOG for casting.
Joe has taught at CSULB " Mastering the Art Of Fly Fishing " and at El Camino College. Joe Is a past President of the Long Beach Casting Club where he remains active in teaching and Instructing in Fly Fishing and Casting.
www.joelibeuflyfishing.com/
—-
David D'Beaupre,
Guide/Instructor, grew up in Western Montana and began exclusively fly fishing at the age of 7. At the age of twelve he won the National Junior Fly Casting Championship in West Yellowstone, MT. Nine years later at the age of 21 David also obtained a FFF certified casting instructor.
David is known for his infectious enthusiasm and positive and patient nature that keeps clients coming back for more time after time. A dedicated fly fisher of 23 years, David has spent the last four years of his 14 year guiding career guiding the year round trout waters of the Sierra Nevada.
Website: http://www.sierratroutmagnet.com
Email: david@sierratroutmagnet.com
Sierra Trout Magnet Fly Shop – Across the Street from Mahogany Smoked Meets
In Bishop – 760-873-0010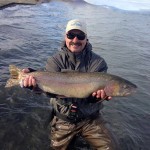 Ernie Gulley has spent most of his life in Southern California. He started fishing with his father from the time he could walk. At age seven he moved to New Orleans, LA. and learned how to fish Lake Ponchatrain for speckled trout and other salt water species. He returned to Southern California with a passion and love affair for fishing. He started fishing the stillwaters of the High Sierra's including Crowley Lake and Bridgeport reservoir. He also fished many lakes in Utah, Idaho and Nevada. During this time he fished exclusively with "Noodle Sticks" which are (IFGA) rated two pound class ultra light rods. His hunt for big fish on light lines had begun.
In 1998 he became intreged with fly fishing and purchased his first fly rod. He fell in love with fly fishing and has never looked back. In 2006 he joined the Deep Creek Fly Fishers Club in Riverside. He has become one of the principal instructors in fly tieing and stillwater tactics.
In 2007 he won the "Double Hall in the Fall" tournament at Crowley Lake. In 2008 and 2009 he placed second in the "Stillwater Classic" in the team category. In 2008 he joined the "High Desert Fly Fishers" and has made presentations on "Crowley Lake Stillwater Tactics" and "Fishing Lake Pyramid" Nevada.
He is a hard core stillwater fisherman and is always eager to share his knowledge an expertise with others.
Bob Slamal
After being in the retail Fly Fishing business for forty years, Bob, now retired, is able to spend more time pursuing his love of Fly Fishing. Bob enjoys guiding on our local Southern California lakes and spends his summers guiding flow trips on the Green River in Wyoming. He is a Licensed Guide and a Certified Casting Instructor with experience teaching fundamentals to beginners or advanced techniques to experts. Bob has earned his reputation as the "Expert" on Fly Fishing for bass using Bob's White Fly. He has also fished competitively in BASS tournaments with his fly rod. Bob was instrumental in developing the new competition Bass fly rod for Sage. He has traveled the world fishing in places like New Zealand, Europe, Norway, Mexico, Florida and the Western United States. His reputation as an expert Fly Fisherman landed him a spot twice on the U.S. Fly Fishing Team and he is a past winner of the Jackson Hole One Fly contest. Bob Slamal can be reached at 951.606.8601 or www.RiversideSkiandSport@yahoo.com.