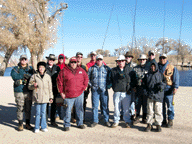 HDFF is a group of men, women and children located in the High Desert of Southern California near Apply Valley. The Club is dedicated to all aspects of the sport of fly fishing starting with the basics up to the more advanced levels. Many of our members are brand new to the sport while other members have quite a bit of experience they would be happy to share with you. Everyone is welcome to attend our meetings which are held on the 2nd Tuesday of the month.
HDFF has worked and continues to work with local and regional organizations reaching out to at risk youth and to anyone who may benefit from fly fishing including our veterans through our relationship with the Project Healing Waters Fly Fishing Organization. We also work With Casting For Recovery which is a national organization that uses fly fishing in their  recovery program for women that have had breast cancer.
Every year we offer classes in casting, rod building and fly tying.  These classes are free to the public except for a modest cost for materials. Non-members are also welcome to attend our monthly meetings and enjoy the variety of speakers who enthusiastically share their knowledge and their experience.
Club Officers
President: John Cary
Vice-President: Rocky Pacini
Treasurer: Pat Gabler
Secretary: Wendy Cary
Social Media Coordinator: Jim Ower
Member at Large: Carmen Miranda
John Aydolette: Project Healing Waters
Mike Hayes: Project Healing Waters – Assistant Lead
Rocki Pacini: Project Healing Waters – 2nd Assistant Lead
Counselor: Rodney Romero – Past President
JOIN US!
Membership: $35.00 per year (Includes Family)
Veterans: $25.00 per year (Includes Family)
Disabled Veterans: $10 per year(Includes Family)
*All members are required to also be members of the FFI.  For FFI membership, Please visit:  https://flyfishersinternational.org/Membership/MembershipOverview/tabid/779/Default.aspx