PHWFF report Jan. 20, 2019
It is exciting times for the Disabled Veterans as they are starting to build their own fly rods. For several weeks master rod builder Mike Hayes has been giving them hands on instruction on building fly rods. The rod blanks and kits have arrived and the veterans have started to build. It looks like wee will be adding a few extra classes as some of the group want to do extra things to their rods as they are going to enter a rod building contest. When they enter the contest they are guaranteed to get a reel, line and backing and if they win they will be treated to a trip with some great perks. Last years winners went to a school for bamboo rod making as well as guided fishing while glue was drying.
Volunteers are an important part for the healing process for the disabled veterans as it does let them know that you care. These are our nations finest and they have given so much more then most people ever will in their entire life.
We have started a facebook page called "Project Healing Waters Fly Fishing – Victorville, CA Program" and you will find several things that will interest you. There are the 6 beginning fly tying videos and some more and we will be adding a lot more about the program in the near future. You are free to post on the page as well as the veterans so if you attend an event or have something of interest please post.
The Victorville Program Started in May of 2018. We are part of a national non profit charity that teaches Disabled Active military service personal and Disabled  Veterans How to Fly Fish at no charge to the individuals. We have several activities that they get involved with such as Fly Tying, Rod Building, Casting and general fishing 101. Once in a while we go fishing to test our skills. We are dedicated to the physical and emotional rehabilitation of our participants.  When this group was started the expectations of them learning Fly Fishing skills was first but over a period of just a few months Magic seemed to happen. There was great healing among the group. It wasn't just one individual but the whole group began to heal in many ways. Donations and volunteers are a big part of what keeps the group going so if you want to help by volunteering your fishing skills or by donations of materials or equipment it would surely be appreciated. Resources allow us to grow the program and to keep healing the participants.
Report by John Aydelotte
Jess Ranch Fishing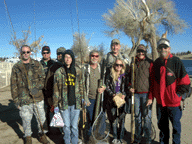 HDFF members are invited to practice their skills at Jess Ranch Lakes located on Apple Valley Road in Apple Valley on the Friday, Saturday and Sundays following the monthly meeting.  The entry cost is $15.00 per day.  Rod weights must be at least a 5 Wt. to protect the fish from harm.  Sorry, this is for members only. We also have occasional outings at Lake 1 at Jess Ranch. This is a float tube only lake and has Trout, Bass, and Bluegills. It is also strictly a catch and release fishery. The fee for this lake is $25 for 4 hours or $40 for all day.