Sundland Ford, 16th Annual Memorial Weekend, Charity Car & Bike Show
Come out and join the fun on Saturday, May 27, 2023, 9:00am – 3:00pm. Hi-Deseret Fly Fishers will have a booth set up. Think you might be interested in the great sport of fly fishing, stop by and say hello.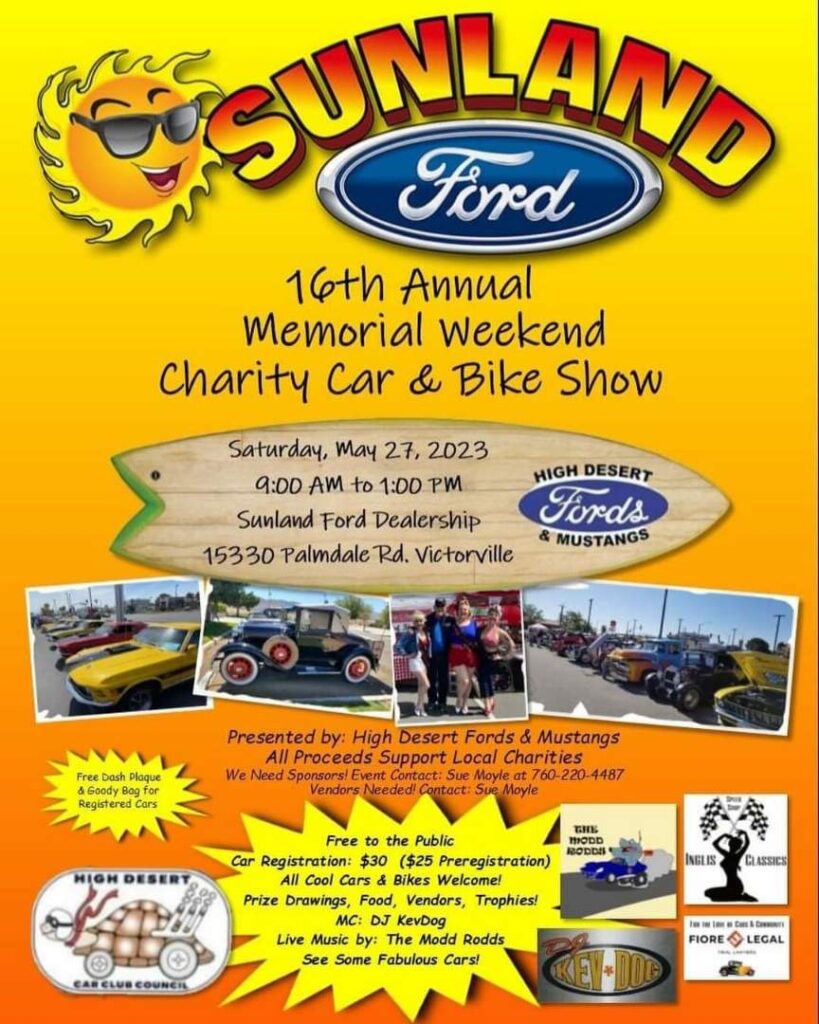 Pyramid Lake Trip Update: April 30, 2023
More photos to follow as I receive them.
Check out this amazing video of our Hi-Desert Fly Fishers getting the job done at Pyramid Lake on Friday and Saturday, April 28th & 29th. Congratulations to all. I'm sure there will be many stories to be shared during our HDFF membership meeting on Tuesday, May 16, 2023.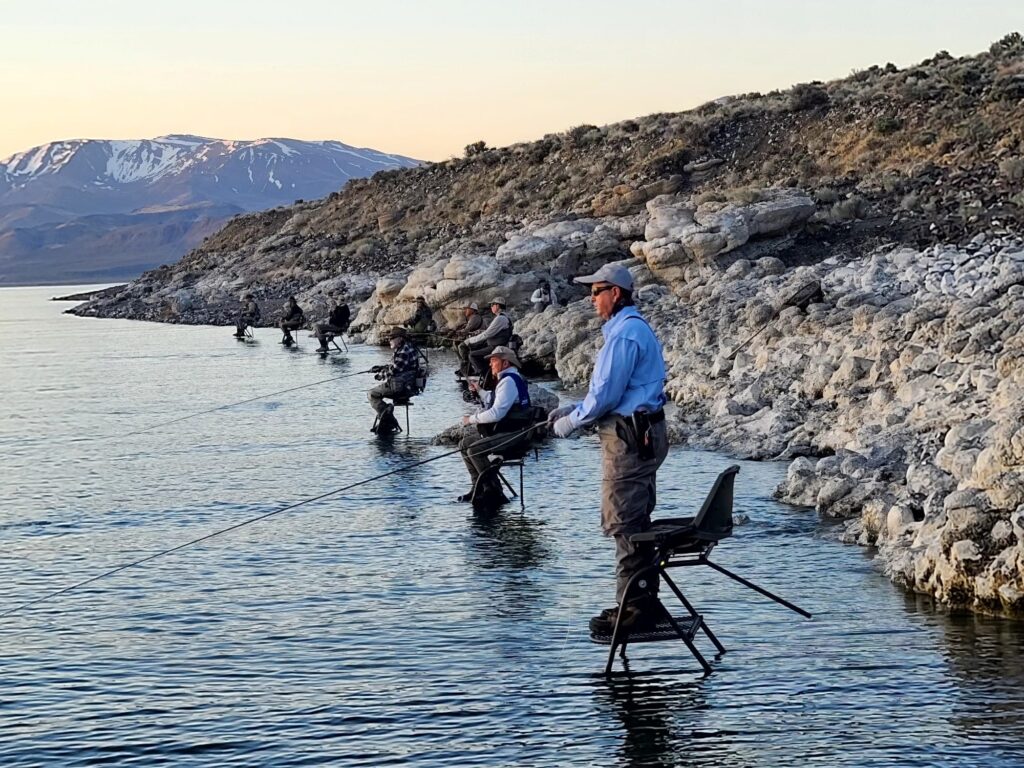 Hi-Desert Fly Fishers are headed to Pyramid Lake in search of "Jurassic Cutthroat Trout"!
On April 28th and 29th, 2023, members of the Hi-Desert Fly Fishers will be heading to Pyramid Lake, home of the Lahontan Cutthroat Trout. This page will be utilized by those members of the club making this trip. Pre-planning information will be updated on a daily basis, so please check back to this page on a regular basis for daily updates. Listed below is the link to Pyramid Lake Anglers:
https://www.pyramidlakeanglers.com/
March 22, 2023: Contact was made with Pyramid Lake Anglers regarding pre-trip recommendations. I'll post response as soon as I receive a response. (jwo)
March 22, 2023: Just to confirm the actual fishing days are Friday, April 28th and Saturday, April 29th. These are the two days Joe will be guiding the trip. (jwo)
March 23, 2023: As of today, it looks like just about everyone making the trip has secured their accommodations or are working out some last-minute details. Attached is the website for the Pyramid Lake Lodge. The bulk of the group will be staying here for the duration of their trip. Our contact point should you require to make reservations is Janet and she can be reached at +1 (775) 842-8637. She is aware of our trip and is prepared to help in any way regarding your accommodations. Please Click on 'HOME' to enter Pyramid Lake Lodge website.
March 23, 2023: Pyramid Lake Guide Fees can be taken care of when you get together with Joe at the lake. He is not requiring pre-payment. Regarding fishing licenses and permits required for Lake use:
Pyramid Lake is entirely within the boundaries of the Pyramid Lake Piute Indian Reservation. No Neveda fishing license is needed only a tribal permit. You can obtain permits online or at one of the permit sales agents located throughout the area. https://plpt.nagfa.net/online/.
March 24, 2023: Click on the link below to review more interesting information about Pyramid Lake fishing. Would love to see one of you break the current world record during your trip!
March 24, 2023: (jwo)
Joe Contaldi has the day off tomorrow and will be giving me a call to pass on some information to share with the group. If you have any individual questions I can ask him on your behalf, send me an email and I will ask the question and get an answer for you. I don't have an email address for a few of the fly fishers going on the trip. So please pass on this information to your buddies.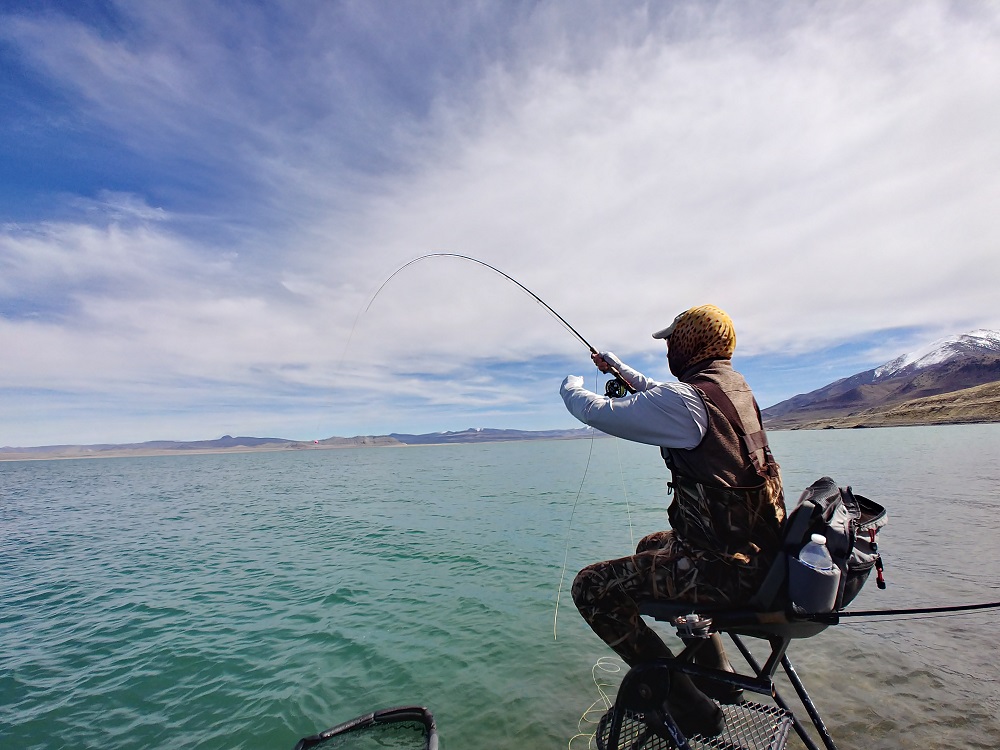 Pyramid Lake Trip Roster Up-date as of April 22, 2023
Two additional fly fishers had to cancel their reservations. We are now back to our original nine.
Rodney Romero
Paul Sinclair
Craig Bullock
John Rose
Doug Norman
Joe Eiswert
Glenn Hinman
John Martens
Mike Ells
March 26, 2023: Joe Contaldi got pretty busy yesterday afternoon and was unable to call me. He did send me an email and will be calling me tonight to go over details of our trip. Once receive the information he has to share with me, I'll update this trip page right away. (jwo)
The monsters are there!! #PyramidLake
"This fly gal is on fire!!
She's done it again, landing a 21.5# Lahontan cutthroat to break her own existing IGFA record! Way to go Kesley Gallagher
Our good friend and frequent guest speaker, Kelsey Gallagher is at Pyramid Lake!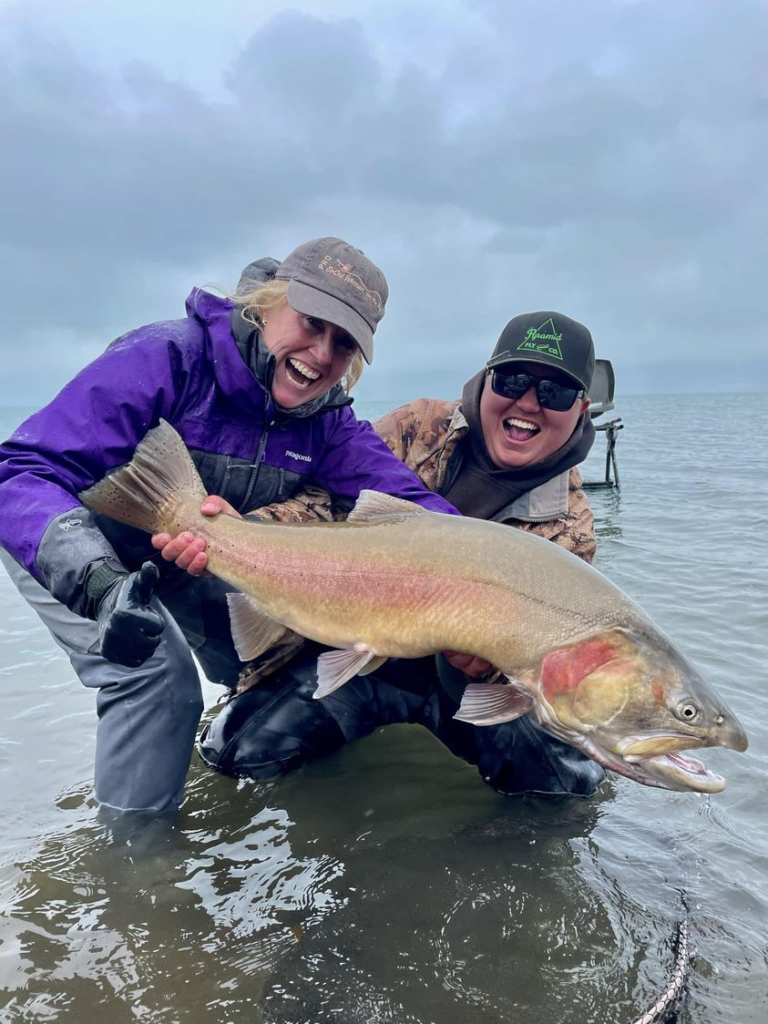 March 27, 2023: (jwo)
I just got off the telephone with Joe and we had a great conversation. He's looking really looking forward to guiding our group. He did request I send him a list of the right handed and left handed anglers. Thanks to Rodney, we have that information and I have copied Joe via this email.
Joe stated he likes to be lakeside between 6:00am – 6:15am and fishing by 6:30am.
If anyone has a special dietary need, please let me know and I will pass it along. The morning usually starts with the standard bacon and eggs and lunch is a bratwurst type sandwich or Burger and refreshments.
The decision as to where you'll fish each morning isn't set in concrete! Joe and his team will make that decision each day. When that decision is made, Joe will send a pin drop of the meeting location each day. This will give mapped directions to the fishing/gathering point. These pins will be dropped to Rodney's and Paul's cell phones, at which time they can share the information with the group.
Joe will call me a week before you head out on your trip to cover any last minute details, such as weather and any other issues that might arise.
Have a great week everyone. This is going to be a 'Bucket list Trip' for sure!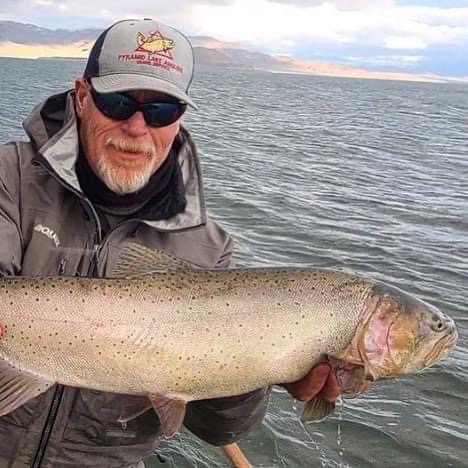 Up-Dated Information – April 13, 2023:
A couple of questions came up at the meeting Tuesday night regarding the Pyramid Lake trip. The answers are listed below:
Question: Are Joe's fishing chairs (ladders) available to rent for the fly fishers staying an extra day: Yes they are available to rent. $40.00 per day.
Question: Can our fly fishers pay by credit card and/or check: Yes, to both methods of payment. Note: There is a 4% fee for processing added if credit card is used.
Joe also accepts VENMO and ZELLE payments.
Pyramid Lake Up-Date – April 26, 2023 (jwo)
Our 9 Hi-Desert Fly Fishers are on their way to Pyramid Lake. Hopefully my next post will be filled with amazing fish stories and photos to back them up.
The-9th-annual-Owens-River-Clean-up-date-changed-to-November-4-2023.